Floor & Lease Plans
Floor Plans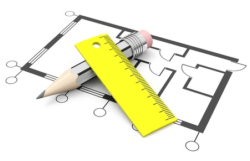 Floor plans are essential in selling and letting property, providing an invaluable way for buyers to assess if a property meets their needs.
What We Do
When you use EPC4U for your floor and lease plan requirements you can count on speed and quality. Once we've measured up for your floor plan you're our number one priority, we don't stop until it's complete. If you need a quick turnaround you can't do better!

Floor plan prices are from £25 when done with an EPC or if a standalone floor plan is needed then fees are 0.40p for square meter with a minimum charge of £65:00
Lease Plans
Laws introduced in 2003 mean that any new lease lasting seven years or longer must be registered with the Land Registry and have a compliant lease plan.

The lease plan is basically a drawing that identifies what area of land is included in the lease.

There are several reasons why you may need to obtain a lease plan, including:
A lease of seven or more years is being granted
Land that is part of a registered title or that was previously unregistered is bsing sold
An area of land is being splt in to two or more parts and sold
Being Compliant
To be compliant with the Land Registry guidelines, a lease plan must:
Be drawn to scale (preferred scales of 1/1250 - 1/500 for urban properties and 1/2500 for rural properties) Specific section may be at a smaller scale for clarity
Clearly indicate its orientation (e.g. depict a north point)
Not be marked as 'for identification only' or any other disclaimers
Have sufficient detail to be identified on the Ordnance Survey map
Be clearly identifiable with regards to location (i.e. it must show roads, road junctions or other landmarks around the land)
Include any land associated with the property, such as the garage, garden.
Show buildings in their correct position as well as drives or pathways if they form part of property boundaries
Clearly indicate the separate parts of the property, such as the house, parking, dustbin space, etc.
Identify any varying floor levels (where required)
Pull out any intricate boundaries on a larger scale or inset plan
Show measurements that correspond to scaled measurements (as much as possible)