SAP & New Build
What is a SAP?
SAP or Standard Assessment Procedure is required in order to produce a Predicted Energy Assessment and an On Construction Energy Performance Cetificate and to compare the energy and environmental performance of dwellings.
Who needs a SAP?
Building regulations requires a SAP and Predicted Energy Performance Certificate to be submitted before the commemcement of any work. It's reconmended that a SAP calculation is carried our early in the design process.
How SAP Works
Since SAP calculations are based upon a desktop exercise, and not a site survey, it is critical, that the correct information is submitted, the following is a suggested list of the information sources and data items required.
Information Required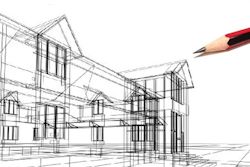 Site address and postcode.
Site plan to include orientation of the dwelling(s).
Plans of each storey, normally at 1:100 scale.
Elevations drawings for each elevation.
Sectional drawings of the dwelling.
A written specification which must include:
Details of the principal heating and hot water system to include make and model of boiler, details of heating emitters, hot water cylinder size (if applicable) and the system controls.
Details of any secondary heating system present.
Details of ventilation systems.
Details of the internal and external lighting.
Details of the construction of all different floors to the property to include type and thicknesses of insulation and any other building products used.
Details of the construction of all different external walls to the property to include type and thicknesses of insulation and other building products used.
Details of the construction of all different roofs to the property to include type and thicknesses of insulation and other building products used.
Details of the doors and windows to include sizes, type of frame, type of glazing, thickness of glazing, any low emissivity applications.
Details of any renewable technologies utilised such as ground source heat pumps, solar water heating or photovoltaics